An outsourcing partner is an individual or company that usually provides contracted services for a different company. Outsourcing is a fast-rising trend in today's modern business environment. Most commonly outsourced services, especially offshore, are computer or internet-related, where software development and programming take a high position.
There is a particularly unique connection between programming and outsourcing because individual vendors require only one physical tool in their arsenal - a computer, along with an internet connection. They have become far more independent as experts providing services to clients willing to pay for individual tasks rather than permanently tying themselves down to a single corporation. In the same manner, companies are growing rapidly providing those very services, putting together expert teams focusing on larger and more complex projects.
Why is outsourcing useful?
Since the rise of IT industry outsourcing has become an essential tool in the professional world. Reasons for this are numerous and have been discussed many times over. Most of them can be summed up into: time and money savings, opening a broader window to find reliable, professional and experienced partners. Let us consider this individually though.
Programmers seek out outsourcing work because it gives them freedom in choosing projects, they can use their technical skills on a bigger market and provide quality results. Similarly, so can be said about companies offering the same services - their experienced programmers can provide quality outsourcing services to clients at affordable rates. For complex projects at a larger scale, companies can be a better fit as they have greater resources and management which individuals may not be able to provide.
For their clients, math is potentially even better. When a client seeks out an outsourcing partner for programming and software development, they look at several factors that will be beneficial to them, such as cost-effectiveness, technical experience, reliability, and quality. Alternatively, we could say they're looking to save money and get quality work without hiring new full-time employees or adding more workload for existing employees.
How to find the right outsource partner?
While the discussion regarding why to outsource could go on indefinitely, the bigger challenge lies in finding the right partner on either side. Multiple websites focus on outsourcing and will allow the programmer and client to find each other. Getting to know someone in this case means researching someone's profile, skills, past experiences, education and just as important - references. Step one is easy when the potential client knows where to find a contractor.
Need help with software development?
We are offering High-quality custom programming and development services. Reduce your costs with outsourcing.
The next step in the professional relationship will primarily be guided by communication. Any relationship is heavily dependent on communication but when it comes to outsourcing, especially online, its importance potentially becomes even greater. If one achieves to find a local partner to reach out to, face-to-face communication could prove easier. However, outsourcing partners often include offshoring, in which case there is a bigger chance of finding partners whose native language usually isn't the same as yours. Not having solid communication or being able to convey exactly what is expected from the contractor can cause problems in the development process and overall result.
Where to find outsource partners?
Now that you know what you are looking for let's review a few options. These websites either let clients post jobs, for which professionals bid, or give programmers a chance to create their ads. The side submitting the ad sets its terms.
The above list contains a small number of outsource options available to you online. Pros and cons could arguably be considered subjective as some prefer to submit bids while others like to put up ads for their services. Some prefer bigger projects while others like smaller ones. Many of the sites already have a large number of popular professionals, which makes it harder for newcomers to break through, especially when those already there have portfolios, statistics and/or references from jobs completed proving how reliable and experienced they are. It is, however, important to remember that most of these platforms require their users to pay certain fees, either in the form of membership or by taking a percentage from the earned income, so detailed research prior to committing is always a good idea.
Freelance platforms, however, are not the only methods outsourcing partners use to find jobs. Companies can and do provide those very same services, with teams of professionals offering their talents in management, programming and software development. This kind of approach will be suitable for those more comfortable with a more organized system. As the saying goes, "Two heads are better than one".
Alternatively, recruitment agencies are spread far and wide both on and offline, each of them offering databases filled with many resumes of capable professionals.
Sites like Linkedin.com are multipurpose as they're used to create online resumes, gather references, talk to other professionals in one's field, and find job postings. References can be even more valuable, whether they come from coworkers, friends, business partners or online contacts. "Word of mouth" can go a long way, which is why building contacts on sites like these can be incredibly valuable.
What are the average hourly outsource programming rates around the world?
We have covered all the essential questions on outsourcing software development and programming, and having touched upon the subject of fees, it's important to note that prices vary based on the location of the individual or company. Just as other jobs are paid differently in every country, patterns form in outsourcing.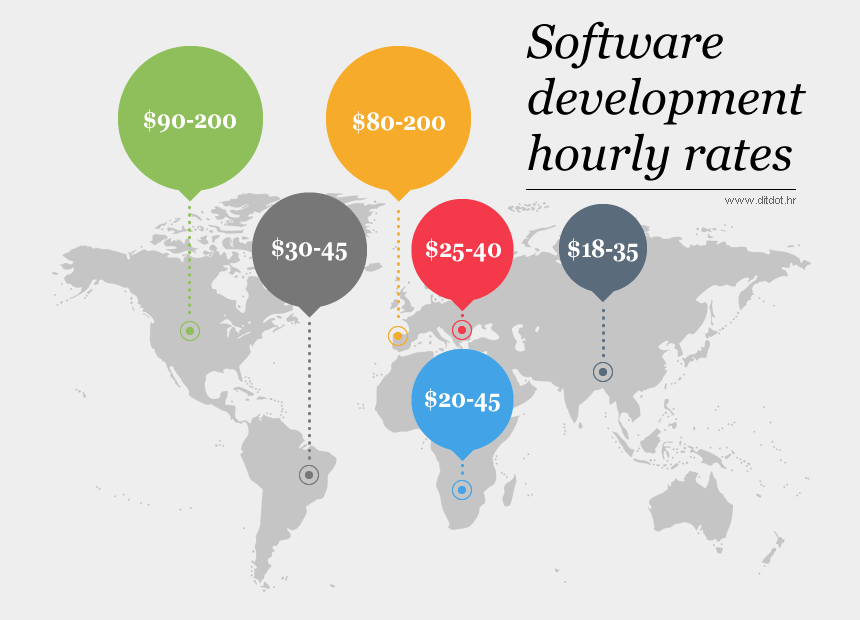 North America: Software development / programming per hour - $90-200
Western Europe: Software development / programming per hour - $80-200
Eastern Europe: Software development / programming per hour - $25-40
Latin America: Software development / programming per hour - $30-45
Africa: Software development / programming per hour - $20-45
Asia: Software development / programming per hour - $18-35
In a broad generalization, according to multiple sources and researches from 2018 and 2020, the lowest prices for offshoring contractors exist in the center and southern Asia (India, China, Philippines, etc.) while the highest dominate within Central and South America (excluding North America and Western Europe). Eastern Europe tends to have a good ratio between price and quality.
Hourly programming rates are an important factor in finding the right outsource partner but it's only a part of the equation. By themselves, rates are just a small portion of the overall picture because the price set by a vendor alone doesn't always reflect if they're reliable or experienced. Prices aren't always reflective of the quality either - it's the value that should be of the utmost concern. In the long run, investment in quality always pays off.
Author: Elizabeth Požar